Th next CANDO Board meeting will be at 7 pm 9/20 at 580 Broadway, ste. 119. (to the right of Cycle Werks, next to the Playhouse.)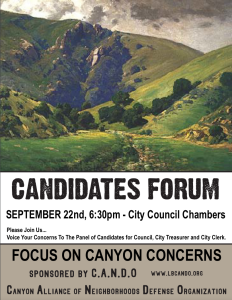 Candidates for City Treasurer and City Clerk have been in invited to give a 3-minute presentation.
Candidates for City Council will be given questions from CANDO and from the audience.  The public is invited to attend. —
Ensuring that we have the right council candidates in place will be critical to us as the major planning initiatives (such as the Laguna Canyon Planning Study) come before the Council in the next 2 or 3 years. We haven't heard much about the Canyon in previous forums – now is the chance to focus on OUR issues!
CANDO Board Elects Officers
The founding board of CANDO elected officers on July 24, 2014.
The following are the elected officers by vote of the CANDO Board: Read More
Join Us!
Anyone may join the Canyon Alliance of Neighborhoods Defense Organization. We welcome your participation and help!
Just send click on the "Forums" button on the banner or go to http://lbcando.org/forums/ and register. You will then be able to participate in our Discussion Forums and we will put you on our mailing list.
Greetings everyone. Welcome to the Laguna Beach Canyon Alliance of Neighborhoods Defense Organization webpage! We are just getting set up so please bear with us. As time goes on we'll add blog posts, announcements and all sorts of useful information. Stay tuned!