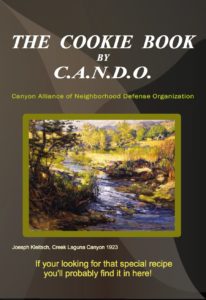 Delicious Cookies – bar cookies, drop cookies, all kinds of cookies!
And your purchase supports CANDO's mission to protect the Canyon
The CANDO Monthly Board meeting will be held Tuesday, February the 20th, at 7pm at LCAD main campus, the boardroom,  2222 Laguna Canyon Road, Laguna Beach.
Canyon Views – The CANDO newsletter
Check it out — Canyon Views, and email us at info@lbcando.org to subscribe!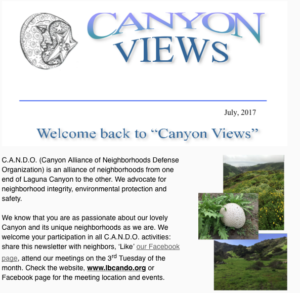 CANDO is holding a letter-writing party, Sunday July 9th from 12 – 2, at 2845 Zell Dr., Laguna Beach – and we need YOU! 
The final Planning Commission review of the "final draft" of the Laguna Canyon Planning Study(*see below for more details on the Study) is planned for July 19, 2017, and then it will go on to City Council.
So how's it going? Do we have anything to worry about? In a word, "Yes"!
There are a number of concerns, but one of the the biggest is the potential for dramatically increased density.
Rather than respecting the protections in the Specific Plans and listening to community input, the Community Development staff and the Planning Commission may recommend an
urban
level of density along Laguna Canyon Rd – a density that is
10 times
 what is present now, a density that could allow
1317

Artist's Work Live units
in the narrow band along Laguna Canyon Rd!
We can balance protecting the rural character of Laguna Canyon with supporting artists; The very high density potentially in the offing does not do that!
===
We also need to advocate to protect the Creek
The City's Major Watersheds and Drainage Courses map has not been updated since the 80's – before Laguna Canyon and South Laguna were annexed – hence it does not include Laguna Canyon Creek, nor Aliso Creek! The result is that neither the Creek nor property owners are adequately protected. The Planning Commission did agree in principal that updating should be done, BUT The City currently has no plans to do it. It is not on any project list, nor is it budgeted for.
===
We will provide: snacks, company, sample letters and issue summaries, paper+pen, envelopes+stamps. Please do bring a tablet or laptop if you want to write 'electronically'. 
Letter will go to: local papers, Community Development staff, Planning Commission, and City Council.
*
In May of 2014 the City Council assigned the Laguna Canyon Planning Study to urban planning firm MIG. MIG was to review the Canyon zoning and Canyon Specific Plans (the Sarah Thurston Park Specific Plan and the Laguna Canyon Annexation Area Specific Plan) identify any conflicts, gather input from stakeholders (identified as the Thurston HOA, Sarah Thurston Park, Canyon Acres, Castle Rock, and Sun Valley neighborhoods, + Canyon businesses and LCAD)and suggest modification to "meet the community's goals". MIG was also tasked with defining/illustrating the concepts of "rural, rustic and small-scale". See:
http://www.lagunabeachcity.net/cityhall/cd/planning/mjrplanginitv/lgncnyplnsty.htm
CANDO Board Elects Officers
The founding board of CANDO elected officers on July 24, 2014.
The following are the elected officers by vote of the CANDO Board: Read More
Join Us!
Anyone may join the Canyon Alliance of Neighborhoods Defense Organization. We welcome your participation and help!
Just send click on the "Forums" button on the banner or go to http://lbcando.org/forums/ and register. You will then be able to participate in our Discussion Forums and we will put you on our mailing list.